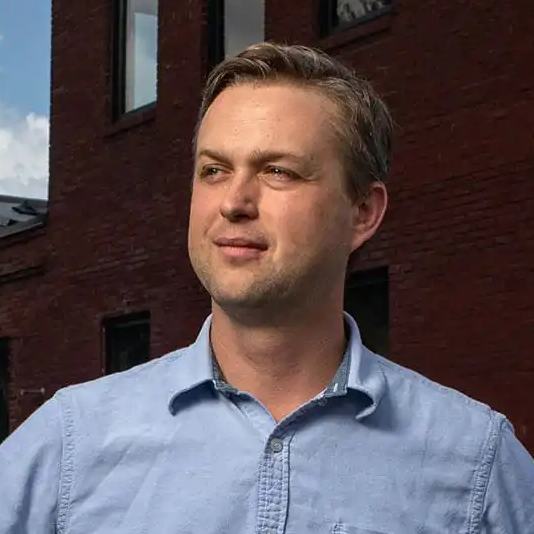 Coalfield Development CEO Brandon Dennison & his team are rebuilding the Appalachian economy one job at a time, with gumption, grit &  grace as their guide.
The wide valleys, imposing mountains and steep ridges that make up the topography of Appalachia wind across all or parts of 12 states, stretching from New York to portions of Mississippi and Alabama.
In the middle this impressive terrain is Huntington, West Virginia, the home of both Brandon and Coalfield Development, which he co-founded in 2010 with his high school best friend.
Brandon and his team bridge the divide between those dedicated to a declining fossil fuel economy and those who believe in the family-sustaining jobs that a renewable energy economy provides. 
That's just one of the reasons he was honored with a 2019 Heinz Award and has been interviewed by the BBC, CNBC and the New York Times.
He has led Coalfield Development in the revitalization of 200,000 square feet of formerly dilapidated property, helped create 300 new jobs, and brought $20 million in new regional investment to Appalachian communities.
As Brandon tells host Grant Oliphant: "Change is hard," and the coal industry "uses fear with incredible precision."
He and the Coalfield Development family counter that fear with fact-based data, comprehensive job and life-skills programs, and—most of all—heartfelt dedication to the long-term health and economic well-being of the Appalachian communities they call home.
"Bridging divides is about human interaction," Brandon says, "and when that happens, barriers go down."
"We Can Be" is hosted by Heinz Endowments President Grant Oliphant, and produced by the Endowments, Josh Franzos and Tim Murray. Theme music by Josh Slifkin. Guest inquiries can be made to Scott Roller at sroller@heinz.org.